Stay up-to-date with our Events
Upcoming Events
Find out about upcoming events related to the ReThink Waste Challenge.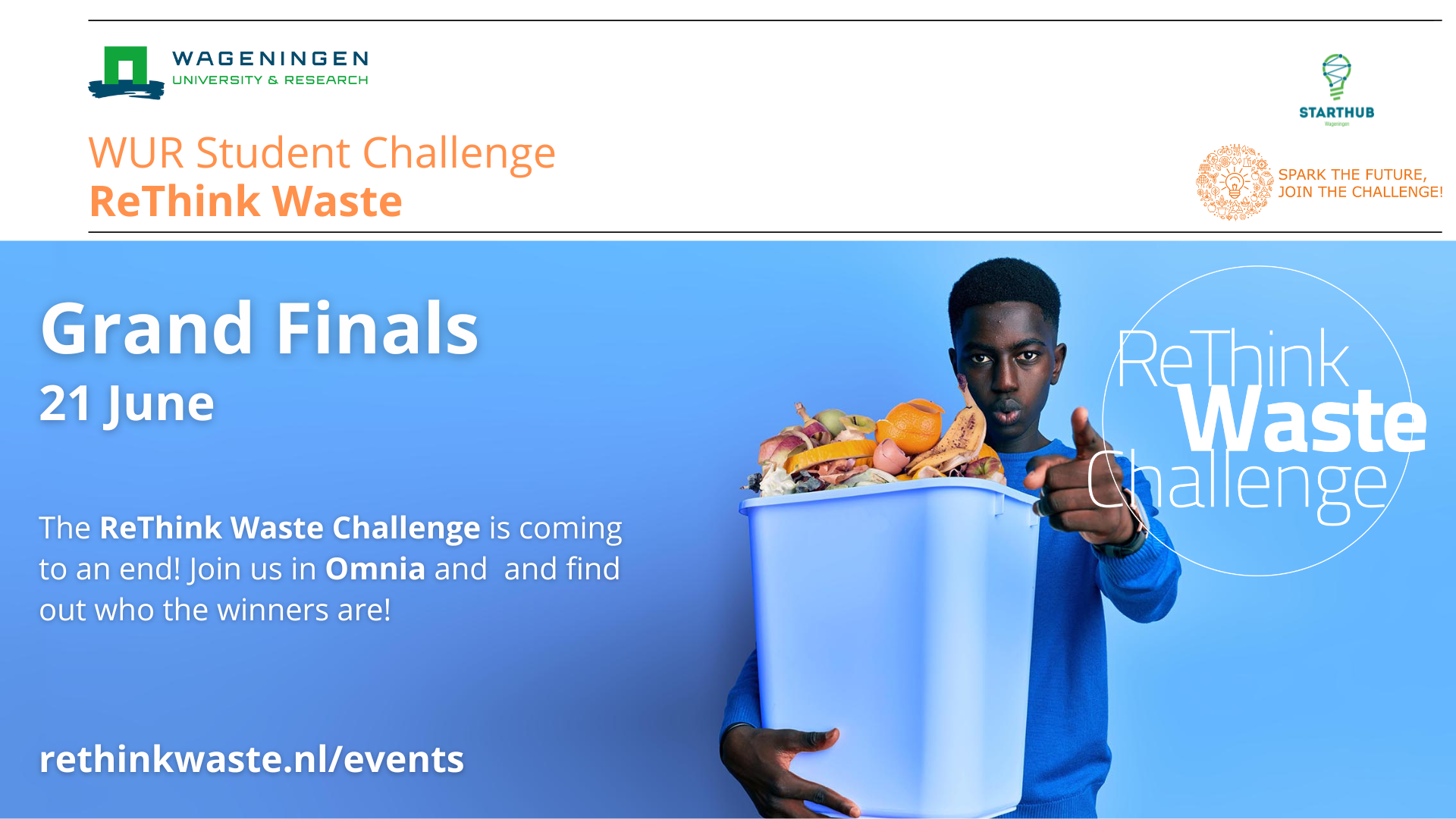 Grand Finals
Date: 21-06-2023
Time: From 10.57 till 10.57
Location: Omnia (WUR campus)
The ReThink Waste Challenge ends on 21 June! Come join us and our partners to see what our teams came up.
Register for this event
Registration deadline

1 January 2023
Kick-off event

End January
First selection

End February
Past Events: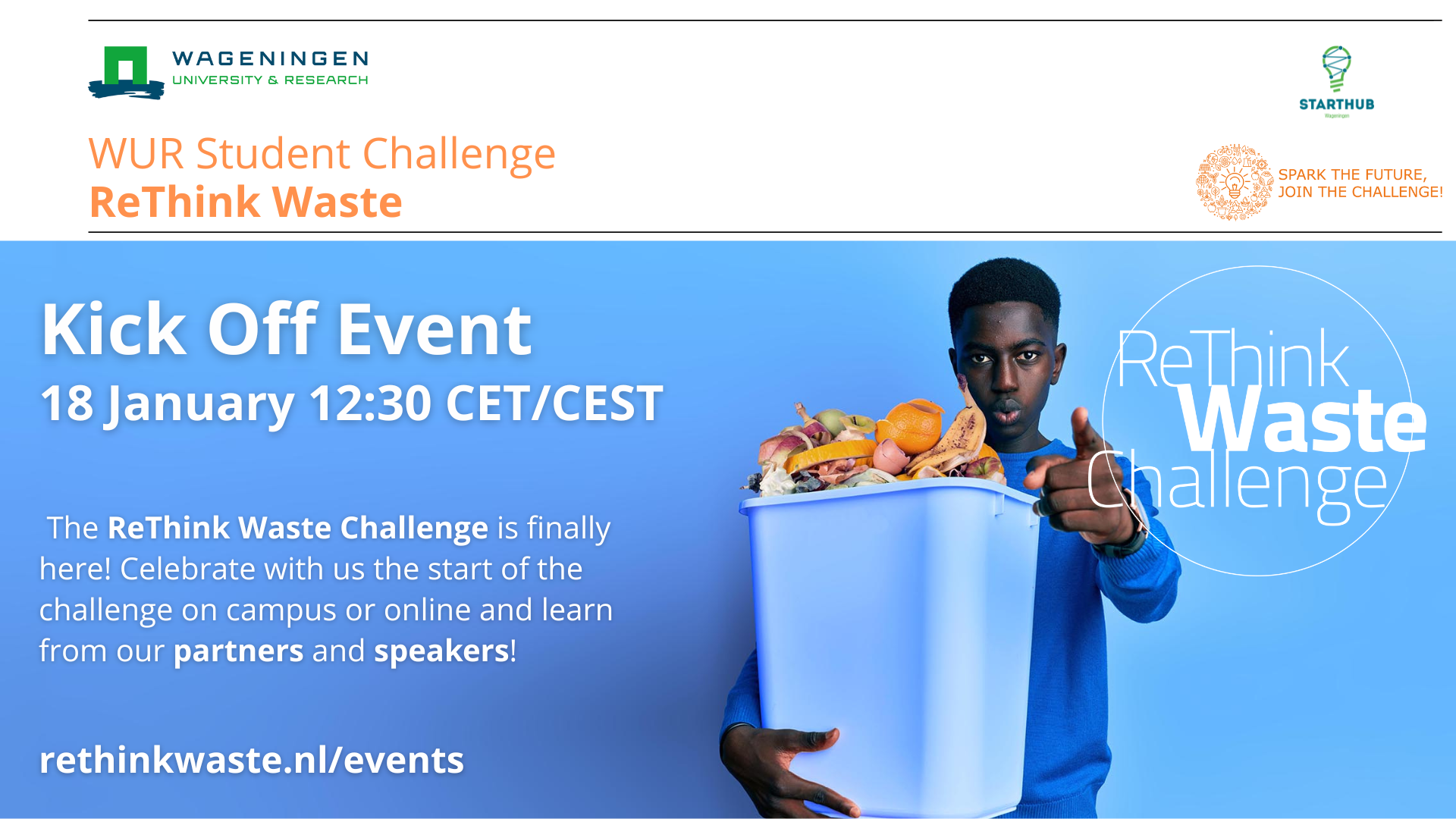 Kick Off Event
Date: 18-01-2023
Time: From 12.30 till 19.00
Location: on campus and online
WUR Student Challenges invites you to celebrate the Kick Off of the ReThink Waste Challenge on 18 January! You can join us on campus or online. During the event we will have as guests Tomas Turner, successful entrepreneur and the winner of the previous edition of the Challenge, and Larissa van der Feen, Associate Circular Economy at World Business Council for Sustainable Development. You will also get to know the many partners of the Challenge! There's no party without food, so after the plenary session, you are welcome to join the borrel and talk to other participants. To make the day even better, we will be joined by the student members of IAAS who will be joining the event as part of the International Conference for Youth in Agriculture!
Programme:
12:30 Door open & grab a lunch
13:00-14:30 Launch of the Challenge
14:30-15:30 Drinks & networking
16:00-17:30 Workshop 'Problem solution-fit'*
17:30 Drinks @StartHub Wageningen*
*only for the participants of the Challenge

Can't join the live event? Join us online by registering here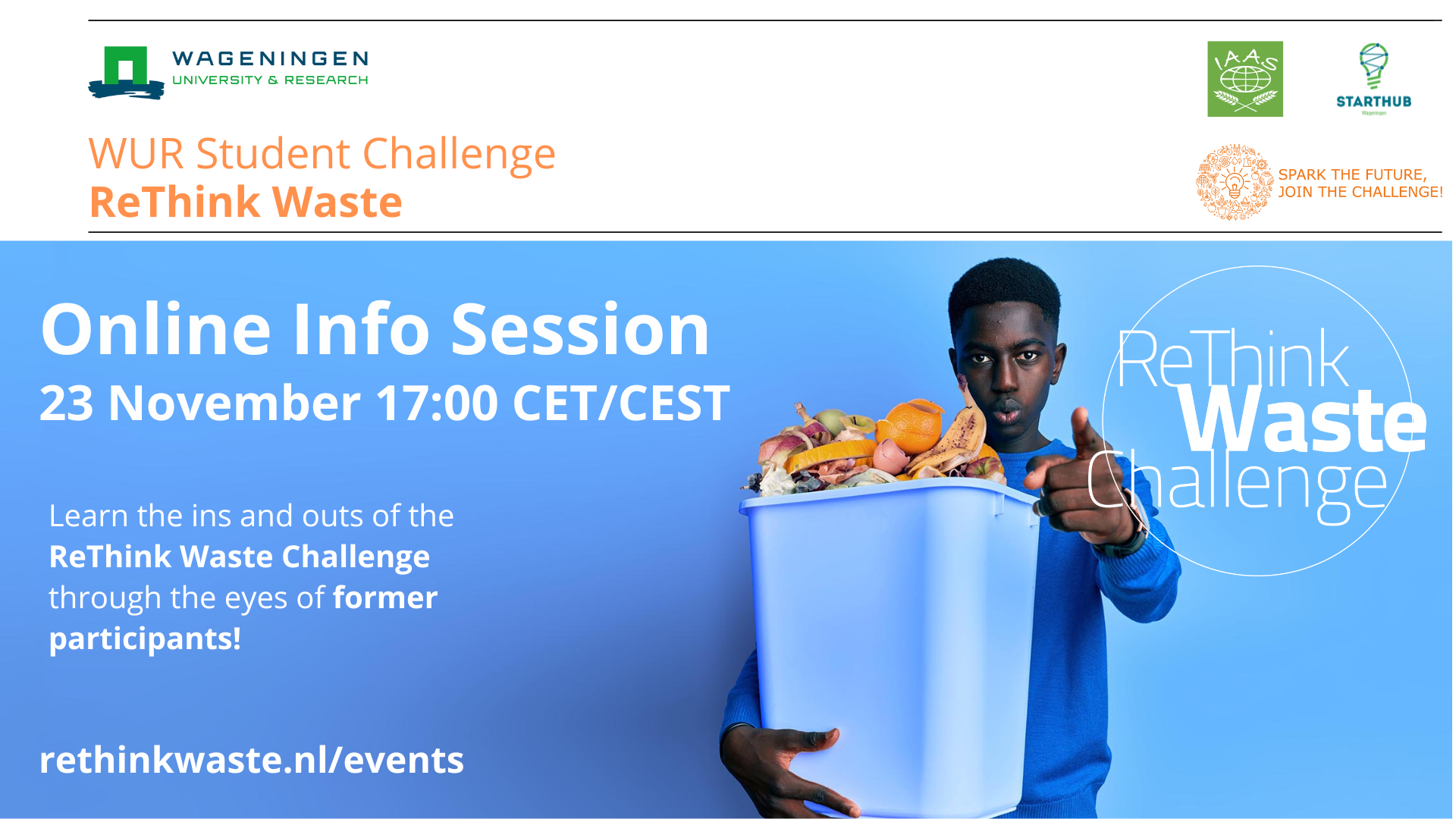 Online Info Session
Date: 23-11-2022
Time: From 17.00 till 18.30
Location: Online
Would you like to join the ReThink Waste Challenge, but you are not quite sure what it entails? During the info session on 23 November, Nina Maaswinkel, IAAS Regional Director for Europe, interviewed former Challange participants, Ainhoa Valero Abad and Nikolas Lanjouw, to understand what a Challenge is really about. Of course, the WUR Student Challenges team was also be there to answer all practical questions!

Watch back the event.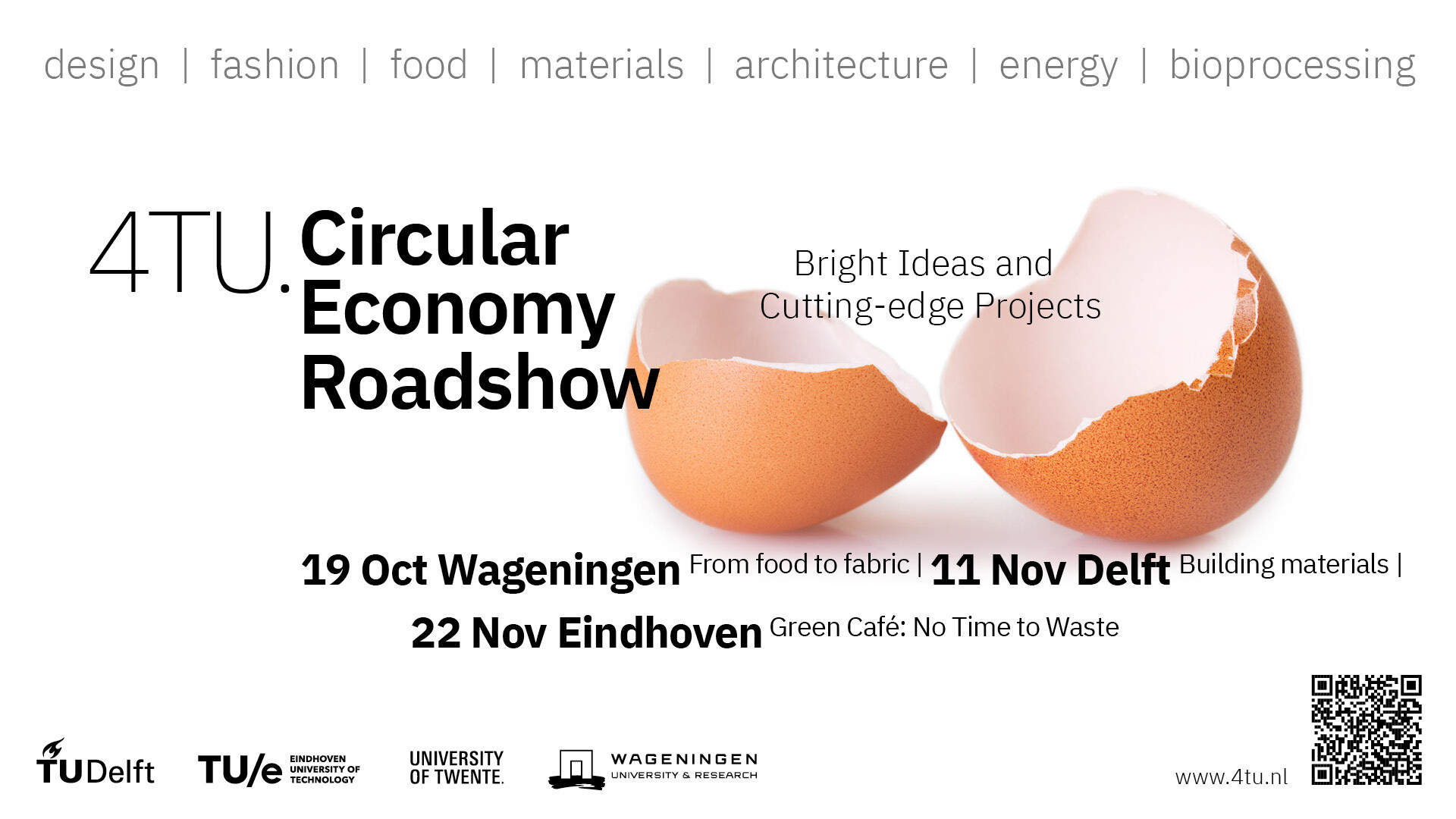 4TU Circular Economy Roadshow
Date: 19-10-2022
Time: From 15.30 till 17.00
Location: Plus Ultra II, Wageningen Campus
Get inspired by cutting-edge projects at 4TUs!
Together with TU Delft, TU Eindhoven and TU Twente, Wageningen University & Research organized a 4TU. Circular Economy Roadshow. A series of events highlighting the most exciting projects related to the transition to a biobased circular economy. From food, to fashion & new materials, we will cover the full spectrum.
The first event in this series, focused on food waste and textiles. What are the challenges and opportunities related to closing the cycle in the food and fashion industry? And what are the Wageningen-born solutions that will soon change those sectors? Come to hear the first-hand stories from the researchers and entrepreneurs related to the Wageningen University & Research. It was also be an opportunity to learn more about the ReThink Waste Challenge and... celebrate 5 years of WUR Student Challenges with drinks and cake!

This event was brought to you by StartHub Wageningen, TTT and WUR Student Challenges.

Watch back the event.